Soria's potato chip companies establish their market in the north of the country
Eleven companies have accompanied the PDI in "The San Sebastian Adventure". Potato chips were one of the most popular products at this event. "We have an open market in the north", commented Francisco Martín, new distributor of Patatas Fritas de Soria Garijo Baigorri, who recalled that these days offered the full range of products that are made in the factory located in the industrial area of Soria, including straws, and with the certificates that the company has been achieving in recent years.
At the fair, a first contact is established with potential buyers, and then progress is made in subsequent weeks to gain their trust in the brand.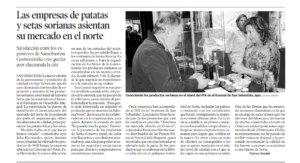 HS11d26BN. Heraldo de Soria, November 20, 2009