Garijo Baigorri in Portugal
The potato chips and snacks brand Garijo Baigorri lands in Portugal with its range of products fried in 100% olive oil.
The brand from Soria has presented its products in the Portuguese market with a great acceptance by the public. Its products stand out for their homemade and careful preparation, for their low salt content and for their tendency to create products that are healthy and rich in flavor.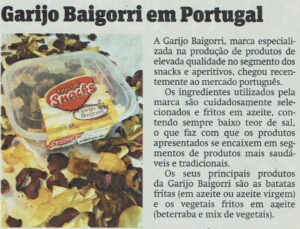 Jornal Metro Jun 2013 _ Kevago.